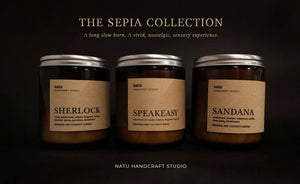 The Sepia Collection
---
A well-worn vintage find.
An intimate night out. 
A hidden, tucked away recollection brought back by a single whiff.
Memories invoked by a long, slow burn from the first light to the last glimmer.
A vivid, nostalgic, sensory memory.
Bask in an olfactory exploration of rich and complex aromas, filling your space with a range of sensory and emotional expressions.